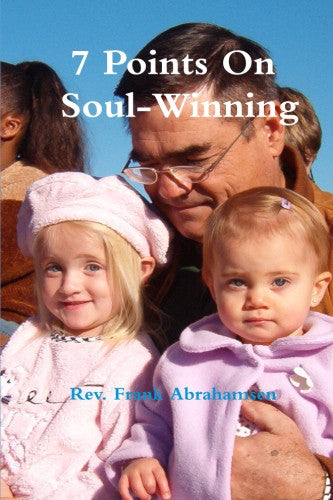 7 Points on Soul-Winning.......... e-Book
$ 2.00 $ 5.99
7 Points on Soul-Winning
Authored by Rev Frank Abrahamsen
 List Price: $5.
6" x 9" (15.24 x 22.86 cm)
Black & White on White paper
50 pages9
ISBN-13: 978-1492199571 (CreateSpace-Assigned) ISBN-10: 1492199575
BISAC: Religion / Christian Theology / Soteriology
What does it take to be a Soul-Winner? A heart broke for the lost. When you ask God to break your heart for the lost you can be a Soul-Winner. God uses the broken things of the world to do His bidding (Christ was broke for us;1st Corinthians 11:24). Brokenness is the key to winning souls.
 When you think of a relative, friend, or stranger, lost on their way to hell, do you shed tears for them? Does your heart cry out: Save them Jesus…Save them Jesus? Do you wake up in the middle of the night and pray for the lost. If you do this then you have the heart of a Soul- Winner.
 This passion for the lost is what God wants for each and every one of us and all we have to do; is ask God for it. So, before you even start to read this booklet; pray this prayer: Lord Jesus, break my heart for the lost, make me a Soul-Winner. Put your love in my heart, the love of Calvary, the love where you died for us, put it in my heart. Help me to love you with my heart, soul, and mind and to love my neighbor as myself. Put a passion to proclaim the Gospel in my heart. Lord, give me a vision of hell showing the reality of hell. Lord let me see the horror of hell in my heart. Let my heart break at the horror of hell. And then Lord, when I look or think of someone who is lost, let my heart tremble with sorrow for them. Lord, give me souls to witness to and give me Holy Spirit power to proclaim the Gospel. Amen.