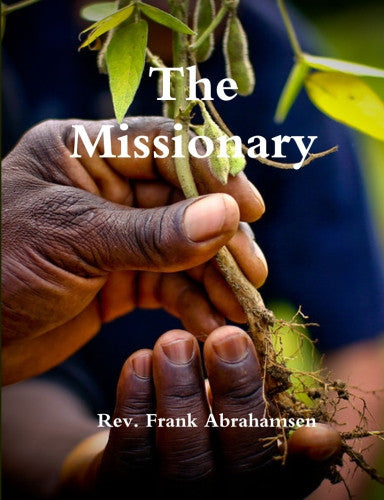 The Missionary..........eBook
$ 5.00 $ 7.99
The Missionary
Authored by Rev. Frank Abrahamsen
 List Price: $9.99
7.44" x 9.69" (18.898 x 24.613 cm)...Black & White on Cream paper...250 pages
ISBN-13: 978-1492151395 (CreateSpace-Assigned)  ISBN-10: 1492151394
BISAC: Fiction / General
"Yes Honey, he told me this morning when I was fixing breakfast. It didn't register with me until you were praying. Oh Matthew, this is wonderful, tell us all about it."
Matthew beamed.
"Yeah brother, tell us all about it. It's hard for me to imagine you preaching, but God can do anything." James said laughingly.
 Matthew laughed and replayed last night's events for them. Life changed radically for Matthew after that night; he had spent the last two years at the University of Georgia studying agriculture and horticulture. Now, however, things would change.
Matthew's love of the outdoors had extended to a love for the soil. It thrilled his heart to see God's life in the soil. Matthew would plant little seeds and watch the results each day as God's water, sun and soil brought growth to the seeds. He praised God for the new resurgence of life each time the seeds burst into life.