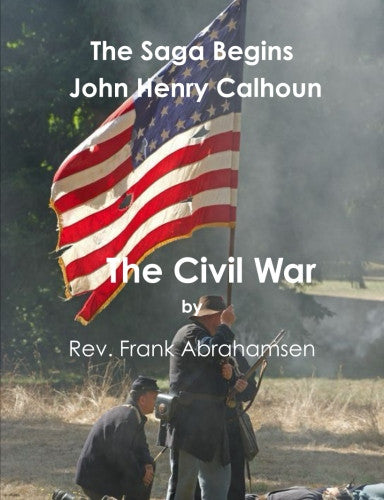 The Saga Begins: John Henry Calhoun: The Civil War..........eBook
$ 5.00 $ 7.99
The Saga Begins: John Henry Calhoun: The Civil War
Authored by Rev Frank Abrahamsen
7.44" x 9.69" (18.898 x 24.613 cm)
Black & White on White paper...190 pages
ISBN-13: 978-1492169789 (CreateSpace-Assigned) ISBN-10: 1492169781
BISAC: Fiction / General
The Reverend John Henry Calhoun is the grandfather to his namesake in the trilogy of novels, The Evangelist, The Missionary and Johnnie Saw Heaven. He is also the great,great grandfather to Johnnie Calhoun. The saga begins here, with The Civil War, in particularly with, The Burning of Atlanta vs. The Burning of Lawrence. The novel is fiction but much of it is factual. It is an open unbiased appraisal of events from the Civil War. The study of the facts brings to light that the Union and Confederates both committed atrocities on each other. The principle of war on both sides was said to have been honorable.
Where is honor in burning towns, killing helpless civilians? There is no honor in this. This novel portrays the cities of Atlanta and Lawrence as cities greatly abused by the Civil War. Sherman's burning of Atlanta and subsequent march of destruction to Savannah was done to shorten the war, which, in fact in did, while the burning of Lawrence was for reprisal against the Jayhawkers who plundered and burned Osceola.
Modern warfare has outlawed this type of action; it is against the Geneva Convention. It was not to be used during the Civil War; however, politics can excite emotions to cause men to do dastardly deeds, as was done on the Union side and the Confederate side. The blame does not rest solely on Abraham Lincoln or Jefferson Davis; it is the military leaders and advisors who fueled this; with the, whatever it takes to win attitude or the end justifies the means.
The Burning of Atlanta versus The Burning of Lawrence brings to light the death, destruction and heartache of war. There are no winners in war for all suffer by losing loved ones. This novel shows the horror of war and the hatred that accompanies this horror. How the bitter feelings consume men and women for years keeping them in bondage worse than if they were in prison. The only way they can experience freedom is when they give this bitterness to Jesus.
Reverend John Henry Calhoun experiences horror in his life and he has to learn that to harbor ill feelings is a downward spiral to a pit of no return. It is all consuming. We are to come to Jesus Christ for his forgiveness to be saved and when we do; He expects us to do the same. When the horror of the world, through war or other means visits, we are come to Jesus for His healing grace. This is the only way we can be free of the hate we harbor against someone or group. (Philippians 4:13)
This hatred can be so all consuming that retribution is all a person may have to give…all they exist for. The travels of Reverend John Henry Calhoun are chronicled in this novel as he travels from Atlanta to Lawrence and the people he meets and his experiences. There is much action and excitement; and also, romance.