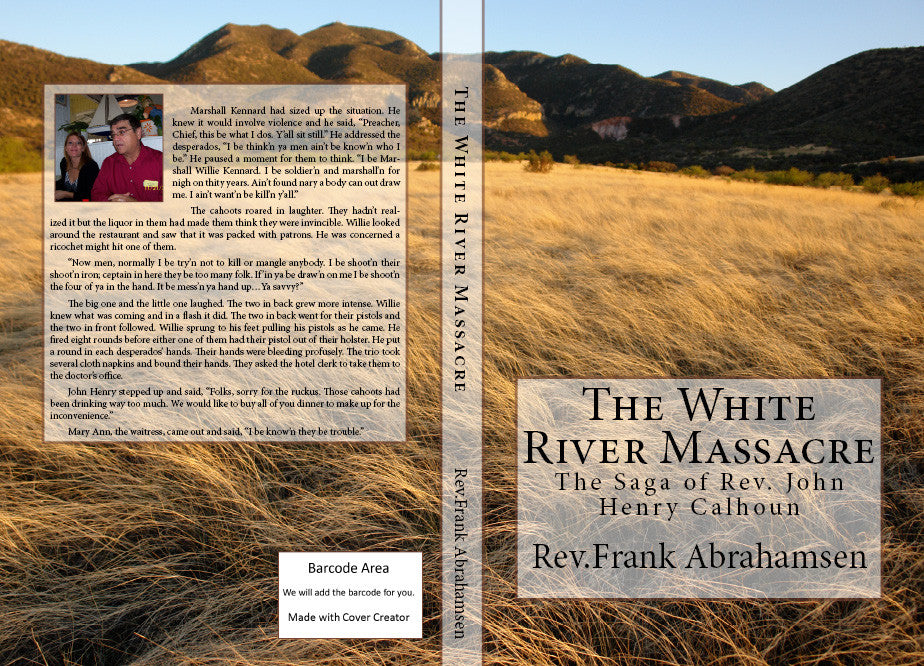 The White River Massacre..........eBook
$ 5.00 $ 7.99
The White River Massacre: The Saga of Rev. John Henry Calhoun......Authored by Rev. Frank Abrahamsen
List Price: $9.99......6" x 9" (15.24 x 22.86 cm)
Black & White on White paper........260 pages
ISBN-13: 978-1499128338 (CreateSpace-Assigned)......ISBN-10: 1499128339........BISAC: Fiction / Christian / Western
'The White River Massacre' is a sequel to 'The Civil War'. The continuing saga of Reverend John Henry Calhoun portrays the touch of God on a man who is totally surrendered to serve Him above all else. Reverend John Henry Calhoun endures much for the glory of God. His journeys are adventurous and rewarding, in that many souls are saved through his ministry. Below is the ending of the novel, 'The Civil War', which opens into 'The White River Massacre'.
 He began at once to make preparations for his departure. He wanted to make sure he spoke with everyone and told them good-bye. Major Henshaw had left his position as tax collector and moved to Topeka where the Governor appointed him to the rank of colonel in the Kansas state Militia. He was to be liaison between the Kansas Militia and The US Army. And his being in Topeka, facilitated his courting Renee. They were on his mind to see before he left and then he received a telegram. "Reverend, Renee and I will be getting married Friday at governor's mansion, will you perform ceremony?"
 John Henry telegraphed back immediately, "Of course…I would love to."
 As John Henry stood in front of Zachary and Renee, he saw peace, love and joy such as only came from Jesus. The attendance was modest, family and friends, not more than fifty people and the ceremony was simple but Spirit filled. When John Henry said, "I now pronounce you husband and wife." The room applauded as the Colonel kissed his bride.
 John Henry stayed the night in Topeka but the next morning he returned to Lawrence. He planned on spending his last Saturday and Sunday with his friends. Sunday night after he preached for the last time the church had a fellowship to celebrate how God had used John Henry in Lawrence.
 The next morning, John Henry had already packed and loaded his gear and had Traveler ready to go before breakfast. Traveler was excited; he knew he would soon be trotting down the trail. John Henry sat down to his last breakfast. Hannah, Mary and Sue Ellen were crying.
 "Now, now I'm a warrior for Jesus and He has called me to go fight the battle in Colorado; so don't fret, we will always be together in His Spirit."
 After breakfast Hannah gave John Henry food for two days, which he gladly took. He was going to miss her cooking. John Henry hugged everyone and said his last good-bye. Then he went outside and mounted Traveler, waved good-bye and said, "Let's go Red."